Every Single Day
Starts This Way®
Why Jimmy John's?
No soups, no hot sandwiches, no salads. Just sandwiches. Our track record is best in class. Our system works for Jimmy John's franchise owners, their teams and customers. We've been doing this for over 36 years. We're one of the fastest growing restaurant chains in America. Most importantly, people love our food! Over 2,800 units strong and lots of room to grow.
We Define Fresh
Our all-natural meats* and vegetables are hand sliced in-house every day. Our fresh baked bread is baked all day, every day. Fresh food from scratch. Has been since 1983.
*All-Natural: No artificial ingredients and minimally processed (except for caramel color on roast beef).
Fast
We spend 6 hours slicing and baking every day to make 30-second sandwiches for our customers. With the prep behind us, our system is designed for fast, flawless execution.
Simple
Limited, focused inventory – what could be easier? Everything about Jimmy John's is about keeping it simple. No BS, no gimmicks. We have a very disciplined product, menu, and system. No one else is as efficient, effective, or consistent as we are in delivering a fresh-made meal for under $20.
High Performers
At Jimmy John's, we want to be the best. We all do whatever it takes to get the job done. That's why we are so selective in this process. Not everyone is wired the same way. We're looking for Jimmy John's franchise owners who want to be the best!
What we do
Sandwiches
We make sandwiches – only sandwiches. Really fast. It's simple: 7 meats, 3 breads, and 1 cheese making 25 different sandwiches.
Delivery
Delivery is our specialty. It gives us the edge to set us apart. We keep our delivery areas small. Our customers get their food fast and fresh. Fresh sandwiches fast!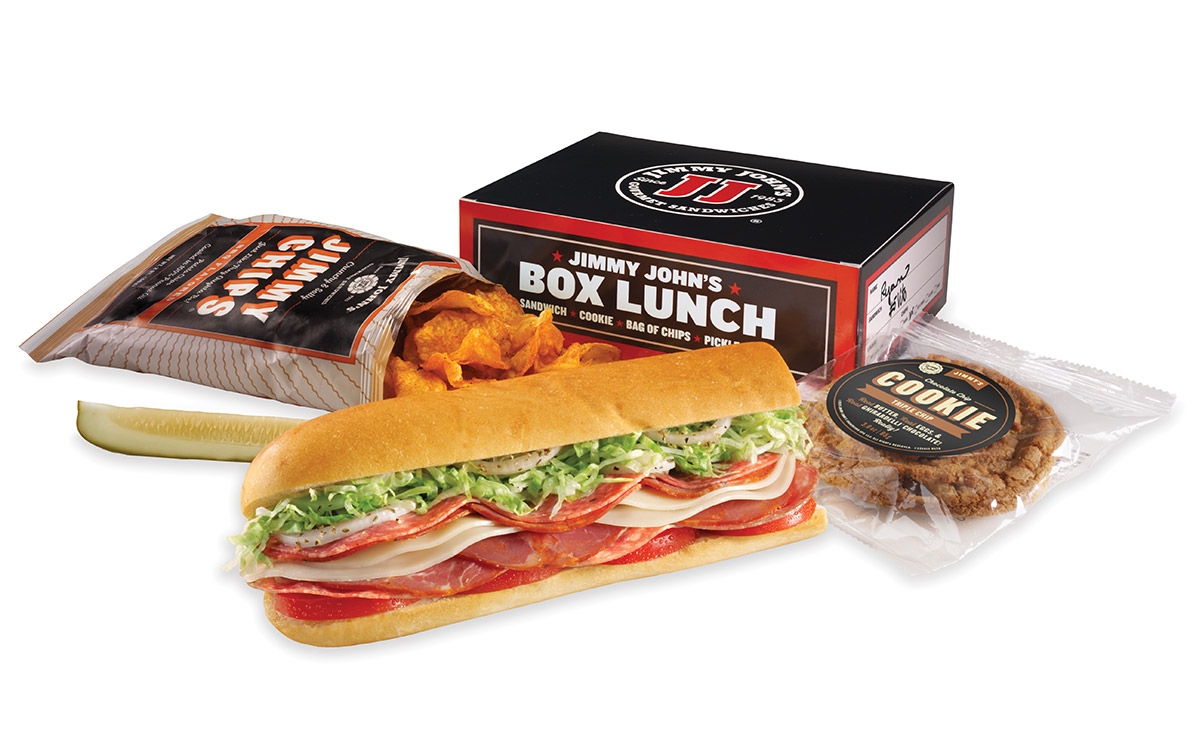 Catering
Party Boxes, 12-packs of Mini Jimmys®, and box lunches – we'll knock out a giant catering order, even with last-minute's notice! Our system enables us to do this. It's designed that way.
Awards
OUR ROOTS
JIMMY JOHN'S FOUNDER
Jimmy John's started back in 1983 when 19-year-old Jimmy John Liautaud opened his first sandwich shop in Charleston, Illinois. His dad was his partner, so he split the profit with him and, after two years, he bought out his dad and the business was all his. Ten years later, Jimmy had 10 stores, and in 1994, he began selling franchises to other entrepreneurs. With over 2,800 stores in 43 states and 98% of them franchise owned, we are just rounding first base!
Jimmy John Liautaud
Jimmy John's Founder

Requirements
Who We're Looking For
Jimmy John's franchise owners are genuine individuals who like our food and who are willing to do whatever it takes to make great sandwiches for our customers. This is a lifestyle, and it's a tough one. It's not for everyone, but being the best is reserved for only those who want to go above and beyond and become a part of this very exclusive club.
What You Need
$200,000 of your own cash & $1,000,000 Net Worth
Support
Once you become a Jimmy John's franchise owner, our team is here to help you succeed in opening and running your store by providing support in the areas of Real Estate, Construction, Training, Marketing, Operations, and Purchasing. From helping you find the right location, to visiting your store regularly to offer ongoing support in meeting Jimmy John's Brand Standards, we're here to serve you.
Real Estate
The Real Estate team travels across the country and works with our franchisees during the site selection process. Within 48 hours of becoming a Jimmy John's franchise owner, the real estate manager for your market will contact you to begin the site selection process. Your real estate manager will work with you closely throughout the entire process until you finalize a lease for your location.
Construction
Our Construction team provides you with the tools needed to build, remodel, or relocate your store, from start to finish. They are here to guide you through the build-out process by assisting with store design, contractor selection, and equipment orders. They will also conduct a final walk-through to make sure that your store is ready to open.
Training
Our team of Training Managers educates new franchise owners and the managers they send to training on the processes and procedures that are essential to operating your restaurant in compliance with Jimmy John's Brand Standards. The training program consists of classroom and in-store training; plus 4 weeks of hands-on management experience for our brand new franchise owners. Trainees are exposed to every aspect of store management, from baking bread and slicing veggies, to learning how to manage food costs and financials. With 100% commitment to Jimmy John's Brand Standards, our training program gives you and your team the tools and training necessary to run your store successfully.
Marketing
Jimmy John's Marketing team is here to help you plan and execute marketing programs on a local and national level. We assist with national media buying, local advertising, social media, customer service, and PR. The Marketing team is also here to show you how to implement an effective sampling program in your stores. We work together to protect the Jimmy John's brand and serve you, which allows you to focus on your store.
Operations
Our Operations team will begin working with you months before your store opens to help ensure that everything is 100% ready to go when your doors open. During the first week that your store is open, we will send an opening specialist to provide additional support. After your store opens, members of our Field Sales Force team will visit your store on an ongoing basis to provide support and feedback to ensure that your store is operating in accordance with Jimmy John's Brand Standards and to share with you the experiences of the best operators in the chain.
Purchasing
Jimmy John's Purchasing team works with our suppliers to ensure your store receives the highest quality products at the best prices. They also manage our nationwide distribution network, work on research and development, and help ensure that you are getting the best prices possible for the inventory you need to run your store.
What's My
Next Step?
Follow the link and complete the application to apply to become a Jimmy John's franchise owner at a new or existing location. If you still have more questions, give us a call at 800-546-6904 or email us at [email protected]
Become A Franchise Owner Today!